Lucy, Lady Houston, adventuress, philanthropist and benefactor of British aviation was born Fancy Lucy Radmall, daughter of a London box-maker, in 1857. By 1872 she was a professional dancer on the London stage known as 'Poppy' and when she was 16 she eloped to Paris with Frederick Gretton, of the Bass brewing family. Although they never married, 'Mrs Gretton', was known in Parisian circles as a fashionable beauty with a tiny waist. Gretton showered her with gifts and at his death in 1882 left her a lifetime annuity of £6000.
In 1883 she married Theodore Francis Brinckman, the eldest son of a baronet. The couple divorced in 1895. Her second marriage, in 1901, was to George Frederick William Byron, 9th Baron Byron of Rochdale and lasted until his death in 1917. During this period she campaigned as a suffragette and was appointed Dame Commander, Order of the British Empire for her support of a home for nurses who had served in World War One.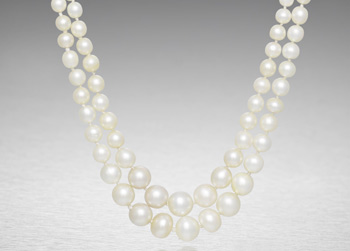 An impressive natural pearl necklace,
Designed as a double row of graduating natural pearls 5.8 - 12.8mm
Formerly the property of Lady Houston 1857 - 1936
SOLD on behalf of a client at auction for £260,000 9th December 2009
Her third and final marriage was in 1924 to Sir Robert Paterson Houston, a Conservative MP and Liverpool ship-owner. When he died, less than 18 months later, he left her £5.5 million (roughly £300 million in today's money) making her one of the richest women in Britain.
Lady Houston was well known for her eccentricities and her contentious political views but her invaluable support of the British aviation team in the Schneider Trophy should not be underestimated. The prestigious Schneider Trophy, held eleven times between 1913 and 1931, was an international award presented to the country who designed the fastest seaplane over a specified course. Her financial support stimulated the advancement of engine technology that would eventually lead to the development of the Spitfire fighter plane during World War Two and help save Britain from defeat.
Since 1922, the aeronautical engineer R J Mitchell, chief designer at the Supermarine factory, had overseen the British entry. Britain had won in 1927 and again in 1929. When the British Government, faced with economic depression, controversially withdrew their financial support of the team, Lady Houston, came to the rescue with a private donation of £100,000 (£5 million in today's money). She wrote in a cable to Ramsay Macdonald "the supremacy of English airmen can only be upheld by their entrance for the Schneider Trophy and I consider this of supreme importance".
On 13 September 1931 nearly half a million people gathered on the shores of the Solent to witness Britainís attempt to secure the trophy for the third and last time. Lady Houston watched aboard her yacht the "Liberty". Not only was the British Supermarine seaplane victorious but it also broke the world speed record.
The lessons learned in building these racing seaplanes helped Reginald Mitchell to develop the Supermarine Spitfire used by the RAF and other allied countries during World War Two and it became the backbone of fighter command during the Battle of Britain.
Lady Houston died on 26 December 1936, months after the Spitfire's first flight.