This oil painting by famous Scottish artist Robert Gemmell Hutchison was purchased for a private collection that we have been advising for the past 15 years
Buying
We are in a position to supply the knowledge that a non-specialist private client may need to build a collection, or simply furnish a house with attractive and worth-while pictures and furniture. We are also happy to advise about the purchase of individual items, already identified by our clients.
In this regard, we work on a commission basis, linked to the value of the items acquired.
When advising about purchase, we first assess the quality and condition of the work, taking account of whether it has been restored or needs to be restored. We then consider the integrity of the piece, its relevance to other items in the collection (if appropriate) and its investment potential. Finally, we advise how much our client should pay for the work, and, if required, take care of bidding, purchase, handling, restoration and delivery, through our sister business, Medcalf & Medcalf.
Selling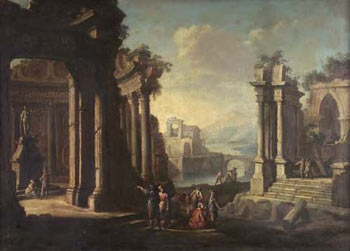 One of a pair of old master paintings attributed to Giovanni Ghisolphi (Italian School 1623 – 83) owned by a client and found on a valuation in Perthshire sold for £8,500.

William Scott "White Jug Blue Pan" no 86 out of edition of 100 coloured lithographs. Signed and numbered in pencil to lower margin, dated (1970) 60 x 87 cm. Sold for £3,200 in September 2006. William Scott 1913-1989 has in the last five years become one of the most fashionable and valuable post war artists with a resultant huge upsurge in prices for his work as reflected in this Limited Edition print. Its insurance value would be in the region of £6,000. (This picture was sold from a private collection in Edinburgh).
Selling at auction requires detailed knowledge about 'what does best where' at any one time. There is no doubt at all that the strategic placing of items will achieve better prices - and you only have one chance to sell! Our experience of galleries and auction houses, in the U.K. and abroad enables us to advise clients when and where to sell.

Perpetua Pope is a contemporary artist living and working in Edinburgh. This work "Killin, Autumn", signed, oil on canvas, 70 x 87 cm. Sold for £1,050 in September 2006.. This painting shows the current, extremely strong prices being realised at auction for "second hand" contemporary art. It is very important in these buoyant markets to have ones collections of Scottish post war painting regularly revalued due to the sharp increases in prices over the last few years.
We are also often asked to find or manage sales by private treaty, on behalf of both buyers and sellers.

This silver rose bowl is a good example of a late 19th Century classical revival piece, weighing 78ozs - it was made by the important Birmingham firm of Elkington & Company in 1875 and sold for £2,100 in September 2006 and despite the market in much 19th and early 20th Century silver being quite depressed, status pieces such as this punch or rose bowl with its gilded interior still fetch good prices at auction.
Dame Barbara Hepworth "Square and Circle", oil on pencil on board, signed and dated 1963 on inscription to reverse, 90 x 45 cm. Sold for £46,000 in September 2006. Dame Barbara Hepworth 1903 to 1975 is best known for her sculptures - a member of the St Ives group. Her work is as internationally well known as that of Henry Moore and this painting from her mature period shows a confident two dimensional realisation of her sculptural successes. Sold from a private collection in Scotland, Medcalf & Medcalf have advised on the development of the owner of this picture's collection.